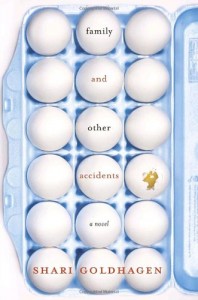 Order at:
  
"Real Life with snappier dialogue. . .reminds you that simply paying attention is one of the things literature can do best." — The New York Times Book Review
Separated by a decade and 200 points on their SAT scores, Jack and Connor Reed have a life in the Cleveland suburbs held together by spit and Chinese takeout. With his self-absorbed, over-the-hill parents dead by his twenty-fifth birthday, Jack has abandoned his own plans and returned to his parents' house where he works marathon hours at his late father's law firm, beds young paralegals, and throws money and advice at his teenage brother. Connor meanwhile wants nothing more than to leave the Midwest, start a family early, and do everything the way his parents didn't. But over the years, through the car crashes and bad breakups, the illnesses and illicit affairs, both realize that while circumstances are sometimes beyond control, there are always choices to be made.
Family and Other Accidents tells the story of these brothers from their viewpoints as well as from those of their girlfriends, wives, and children. It is a story of what it means to be a family, to love unconditionally in the face of confusion, anger, and regret. Shari Goldhagen's debut is a finely nuanced, universally resonant portrait of the ties, however strange or awkward, that bind families together through the decades.
"Engrossing, beautifully written." — People 
"A lithe living text. . .Goldhagen has chartered a compelling, believable course of true brotherly love." — San Francisco Chronicle
"Delicately mines the complexities of how loved ones seem close and far away–often at the same time–and how the smallest word uttered has the power to unravel and save." — Entertainment Weekly 
"Immensely assured." — Booklist
"Unsentimental and emotionally riveting." — Publisher's Weekly
"Goldhagen has the gift of creating people about whom the reader comes to care, and that alone marks her as a novelist whose future work should be greeted with eager anticipation." —Atlanta Constitution Journal
"Highly recommended. Goldhagen does a wonderful job of describing the familial bond and all the ups and downs and oddities that we consider family." —Library Journal
"Highly Recommended. Goldhagen is a gifted and talented writer who manages to introduce interesting yet flawed characters whose lives readers will care to understand and follow throughout years of their lives." —Midwest Book Review